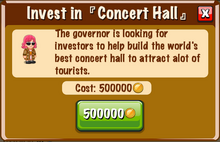 Concert Hall is ninth invest in the game,after invest, Pop Star will enter your hotel and get new item: Scented Candle
Description
Edit
The governor is looking for investors to help build the world's best concert hall to attract a lot of tourist.
How to unlock
Edit
Open the task manager
Invest in "Concert Hall"
After the investment is complete, you will have unlocked the Scented Candle and also the Pop Star.
Before you invest,you should need to invest Stadium first.